WINDSOR CONVENTION CENTER - BARRA DA TIJUCA
---
Windsor Oceânico
Rua Martinho de Mesquita, 129 - Barra da Tijuca - Rio de Janeiro - RJ - Brazil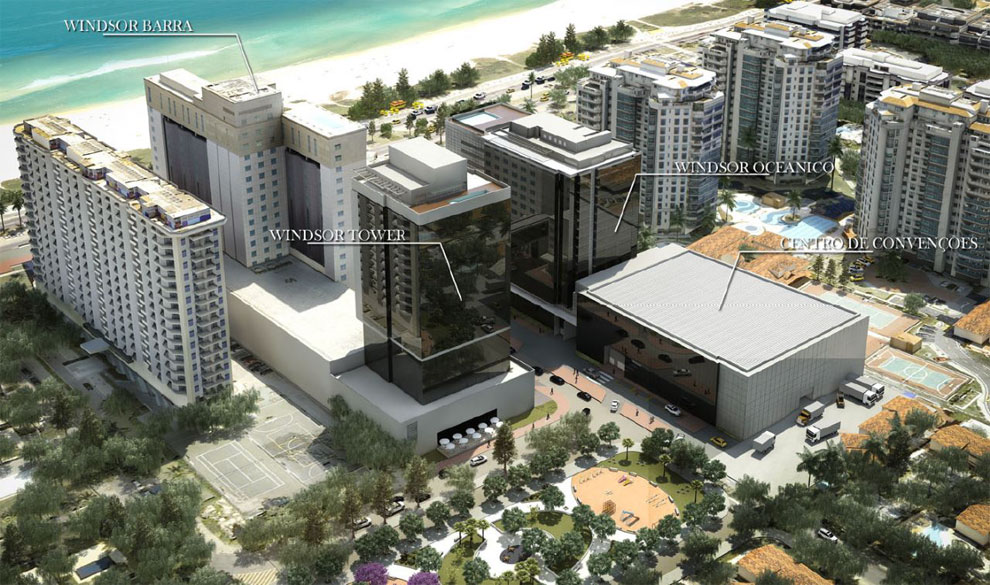 Windsor Oceânico is located in Barra da Tijuca, a neighborhood known for its diverse leisure, gastronomy and culture options, being one of the most popular areas for travelers from all over the world.
The hotel has a complete infrastructure and a differentiated service, worthy of a four stars. For leisure or business stays, the experience is always unique. The hotel has 453 rooms, including apartments and suites.
Windsor Oceânico comprises a powerful complex, together with the large Convention Center, Windsor Tower and the Windsor Barra Hotel. Whether for business or social events, we have a complete infrastructure.
From rooms for meetings and small groups, to 110 modular halls with a ceiling height that can reach 5.40 meters and capacity for up to 5,000 people, meeting the highest standards of demand to hold the most varied events and it has the most advanced audiovisual equipment, prepared to meet any requirement in events from small to large.
PRINCIPAL ENTRANCE – pedestrians: Rua Martinho de Mesquita, 129

THE CITY OF RIO DE JANEIRO
---
Rio de Janeiro, capital of the State of Rio de Janeiro, is the second main Brazilian city, is located on the coast of the Southeast region of Brazil and has its local geography marked by tropical vegetation and climate.
It has a varied culture, often referred to as a synthesis of Brazilian cultural aspects, with emphasis on the fields of literature, theater, cinema and music. It is also the center of production of performing arts in Brazil, with emphasis on theater and cinema. In music, the following genres stand out: samba, bossa-nova and funk.
In turn, the city of Rio de Janeiro has many museums and cultural centers, such as the Museu do Amanhã and the Museu Histórico Nacional. There are also several event venues, which host festivals such as Rock in Rio. Carnival and New Year's Eve are the main parties held in Rio de Janeiro.
The local cuisine is marked by dishes such as biscoito de polvilho, (manioc flour biscuits), feijoada and bolinho de bacalhau (codfish croquette). As for sports, football, beach volleyball, surfing, rowing and sailing stand out. The municipality was one of the 12 host cities for the 2014 World Cup and also staged the 2016 Olympic and Paralympic Games. In addition, it is home to the main soccer stadium in Brazil, the Estádio Jornalista Mário Filho, better known as Maracanã.
Rio de Janeiro is full of sights! In the center of the city, the region where Rio began, are the historic buildings, the pedestrian streets, the Municipal Theater, the National Library, the Church of Candelária, the emblematic Confeitaria Colombo and so on. Taking walks through this region, you will be able to follow the development of the city and its contrasts. From the center, you can take the cable car that passes by Arcos da Lapa and takes you to Santa Teresa and walk along its slopes. In addition, it has a revitalized port area and today houses the AquaRio, an oceanarium.
The Cristo Redentor is certainly the most famous attraction in the city and is located on top of Corcovado Mountain, offering a breathtaking view of Rio de Janeiro. It is a wonderful place, with a lot of symbolism. Equally enchanting is the Sugar Loaf, which is accessed by a cable car and, at the end of the afternoon, you can admire the sunset from a unique angle! Copacabana is also an attraction, with its walkway made of Portuguese stones, the sea, the Fort of Copacabana and the latent high spirits of the carioca.
In other words, Rio de Janeiro is a city for everyone and you cannot pass up the opportunity to get to know it!

RESTAURANTS
---
JAPANESE FOOD
Gurumê Rio Design
Planeta Sushi
Ginger Sushi
Manekineko
Sushi Bar Rio Tokyo
Kone Delivery
ITALIAN FOOD
Fratelli
La Mole
Nonna Per Heaven
Gabbiano Ristorante
La Botticella
Faenza Pizza & Grill
Spoleto
VEGANS FOOD
Paris 6 Bistrô
Delírio Tropical
Saudável Vegano
Green Station
MEXICAN FOOD
Guacamole Cocina Mexicana
Taco Bell
Taco e Chilli Eventos
Dos Perros Tacos
Los Frick
SEAFOOD
Restaurante Siri
Peixaria Mocellin
Toca da Traíra
Camarada Camarão
Laguna
RESTAURANTS ON THE BEACH OF BARRA DA TIJUCA
Picanha & Etc
Bangalô Bar e Restaurante
Na Brasa Columbia
Rock & Beer
Baladinha
Fratelli
Oceânico Sushi Bar

SHOPPING
---
If there's one thing that Barra da Tijuca doesn't lack, it's shopping malls. Truly, the region is known for having more malls and commercial centers than any other neighborhood or region in the entire Rio de Janeiro.
BarraShopping
Village Mall
Via Parque
Downtown
Rio Design Barra
Casa Shopping
Metropolitano
Barra Garden

CULTURE AND LEISURE
---
TO RELAX
Praia da Barra
Praia da Reserva
Praia do Grumari
Prainha
Bosque da Barra
Parque Natural Municipal da Prainha
Casa do Remo
Pedra Bonita
TO CONTEMPLATE
Ateliê Casa Sete
Atelier Leila Aguiar
Casa do Pontal
Cidade das Artes
TNT Arte Galeria
Sítio Roberto Burle Marx
HOUSE OF SHOWS AND THEATERS
Qualistage
Vitrinni Lounge
Lalu Lounge
Padano Sertanejo & Bar
Bar da Alcione
Bar do Zeca
Teatro dos Grandes Atores
Teatro Antônio Fagundes
Teatro Multiplan

USEFUL INFORMATION
---
On the Riotur website you will find information about urban transport, airports, bus terminals, air taxis, special police services, consulates and much more.